22 March 2023
New Publication on the Circular Economy and the Law
CEPRI researcher Dr Katrien Steenmans has recently published Circular Economy and the Law: Bringing Justice into the Frame together with Dr Feja Lesniewska (University College London (UCL), UK).
Given the global resource and waste crises, the circular economy is an increasingly important concept within law and policy promoting the minimisation of waste production and resource use.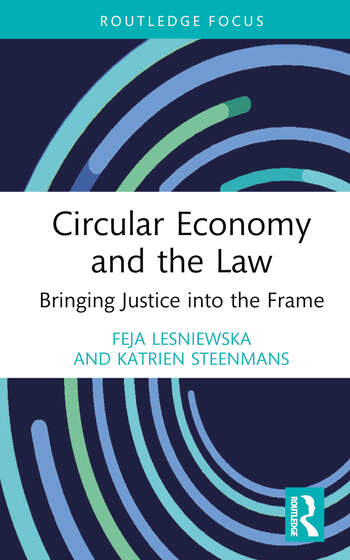 In their book, Feja and Katrien explore the range of circular economy-related laws being adopted globally before critically considering the implications those laws will have on the world's historic, current, and future justice terrain. The book argues that if a sustainable, just, and inclusive circular economy is to be created, existing inequities and injustices need not only to be understood, especially the role that laws have played in embedding them within the linear economic system, but also acted upon.
The book will be formally launched on 29 March 2023 at UCL, UK, at an event chaired by Prof Julia Stegemann (Founding Director of the UCL Circular Economy Laboratory) with discussants Prof Rosalind Malcolm (University of Surrey, UK), Prof Amanda Perry-Kessaris (University of Kent, UK), and Dr Sean Thomas (University of York, UK).
Research undertaken for this book provides the wider legal context of the Circular Supply Chains – identifying and allocating legal risks (CirCus) project in which Katrien is a postdoc. She is investigating the legal risks of adopting a particular tool that aims to make producers responsible for their productions throughout the products' life-cycle, called Extended Producer Responsibility. This has resulted in another recent publication 'Using Plastic Wastes to Exemplify Justice Dimensions of Extended Producer Responsibility', co-authored with Prof Rosalind Malcolm and published in the Advances in Environmental and Engineering Research.
Topics