13 January 2023
New visitor at iCourts - Gabrielė Chlevickaitė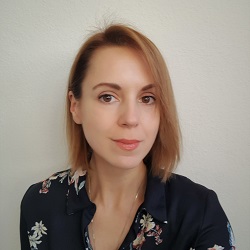 Gabrielė Chlevickaitė is Assistant Professor in Empirical and Normative Studies at the VU Amsterdam, where she conducts research into fact-finding in international criminal investigations and teaches at International Crimes, Conflict and Criminology MSc program and International Criminal Justice summer school at VU Amsterdam. She is concurrently a co-director of the Center for International Criminal Justice (CICJ, www.cicj.org), an interdisciplinary research centre at the VU Amsterdam.
In 2017, Gabrielė was awarded NWO Research Talent Grant to conduct doctoral research on insider witness assessments at international criminal courts and tribunals. In 2017-2021 she worked at the Netherlands Institute for the Study of Crime and Law Enforcement (NSCR) in Amsterdam as a PhD candidate and was a fellow at the CICJ. She defended her dissertation in March 2022. Besides PhD research, in 2019, Gabriele was awarded (alongside a team led by Dr Anna Sagana of Maastricht University), a Constructive Advanced Thinking Interdisciplinary Research Mobility Grant for project 'A Psychological approach to international criminal justice. Improving decision making in the Office of the Prosecutor at the International Criminal Court.'
In 2015 Gabrielė graduated with an MSc  in International Crimes and Criminology (cum laude) at VU Amsterdam. During and after the university studies, she interned and worked at the International Criminal Court, Investigations Division of the Office of the Prosecutor (2014-2017). During the years at the ICC, Gabrielė gained experience in investigative analysis and methods, which brought the topic international criminal fact-finding to her attention.
Publications
Chlevickaitė G and Holá B, 'Empirical Study of Insider Witnesses' Assessments at the International Criminal Court' (2016) 16 International Criminal Law Review 673
Chlevickaitė G, Holá B and Bijleveld C, 'Thousands on the Stand: Exploring Trends and Patterns of International Witnesses' (2019) 32 Leiden Journal of International Law 819
Chlevickaitė G, Holá B and Bijleveld C, 'Judicial Witness Assessments at the ICTY, ICTR and ICC' (2020) 18 Journal of International Criminal Justice 185
Chlevickaitė G, Holá B and Bijleveld C, 'Suspicious Minds? Empirical Analysis of Insider Witness Assessments at the ICTY, ICTR and ICC' [2021] European Journal of Criminology 1
Topics