Sebastian Felix Schwemer
Part-time lecturer, Industrial postdoc
Master in Law (LL.M.)

Karen Blixens Plads 16, 2300 København S, Building: 6B.3.33

Karen Blixens Plads 16, 2300 København S, Søndre Campus, Building: 6B.3.33
Sebastian is an industrial postdoctoral researcher at the Centre for Information and Innovation Law (CIIR) at the University of Copenhagen and the Danish Internet Forum (DIFO). His research interests are at the intersection of regulation, technology and society and he is frequently speaking on related issues.

Sebastian holds a PhD degree in Law from the University of Copenhagen, a German law degree (Dipl.-Jur.) with specialization in competition, intellectual property and media law from Ludwig-Maximilians University, and a Master of Science degree (M.Sc.) in law, economics and management from University of Copenhagen and Copenhagen Business School.
Before joining the Faculty of Law, he has been working for leading law firms, research institutions and technology startups with a strong focus on the digital ecosystem. Sebastian is also one of the initiators of the #CPHFTW foundation and Techfestival Copenhagen.
In 2015, Sebastian was Fellow at Humboldt Institute for Internet and Society (HIIG), Berlin. In 2018 and 2019, he was guest researcher at the Norwegian Research Center for Computers and Law (NRCCL). Since 2017, he is working as industrial researcher on a project for the Danish Internet Forum (DIFO). Sebastian is part of the Faculty's Digitalisation Hub.
Primary fields of research
Sebastian is primarily interested in studying questions on the intersection of regulation and technology, especially related to the Internet, decentralized systems and artificial intelligence. He continues to work on questions around copyright in the Digital Single Market and is intruiged by the use of informatics in the legal domain. Sebastian's current industrial research project focusses on the role of the domain name system (DNS) in the takedown of unlawful content.
Teaching
| | |
| --- | --- |
| 2014 (Spring term) | EU Intellectual Property Law and Policy in a Global Context |
| 2014 (Fall term) | Law, Science & Technology in the Digital Society (GitHub, Slideshare) |
| 2017 (Fall term) | Informationsret (Information law) |
| 2018 (Fall term) | Informationsret (Information law) |
Sebastian is frequently speaking on related issues and delivering guest lectures, e.g. at the Euroean Institute of Technology (Climate-KIT) or at KU's Department of media, cognition and communication. He has also contributed to several blogs such as The 1709 Blog, IPTrollet, or HIIG and national and international media outlets such as WIRED UK, The Verge, MIT Technology Review, DR, Politiken, Radio 24syv and others.

Sebastian is supervising students within his research fields.
Current research
Industrial research project (since 2017):
"The role of intermediaries/domain registries in content regulation"
 
The project is co-financed by the Innovation Fund Denmark and the Danish Internet Forum. For more information on the projet see here (in Danish).
 
 
Research project (2013-2016):
"Licensing of copyrighted-content for the Internet"
 

Copyright is territorial. But is the Internet? In Europe, licensing and access practices do not reflect the digital narrative, in which endusers demand ubiquitous access. Before this reality, the territorial nature of copyright and its business models collide with the borderless nature of the Internet and the political goal of a Digital Single Market.

This PhD project probes the regulation of two different online markets, which have recently been subject to scrutiny by the EU legislator: the audiovisual and the music sector. The thesis puts the regulatory and non-regulatory initiatives, which support the facilitation of cross-border access to content, in the context of Better Regulation, the multi-governance approach by the European legislator. In addition to legal research, it looks to economic theory in order to benchmark the different solutions in terms of accessibility and transaction costs.

The research finds that the interplay between harmonization efforts under the Digital Single Market Agenda (Directive 2014/26/EU; Proposal for Regulation on Portability) and competition proceedings (CISAC proceedings; CJEU in Premier League and Murphy) has been helpful in mitigating the effects of licenses based on territoriality. It suggests more coherent measures are necessary to enable cross-border dissemination of content.

Keywords: Law and Economics, copyright licensing, collective management, online streaming, geo-blocking, competition law, better regulation, business model specific regulation, Digital Single Market

JEL classifications: K11, K29, L86, O34

 
 
 
 
Research groups: Copenhagen Internet & Society Research Group; Artificial Intelligence and Legal Disruption Research Group (AI LeD); Blockchain Research Group; Marked, innovasjon og konkurranse UiO (associated member)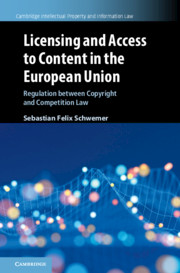 Talks and presentations
You can find most of Sebastian's presentations on his activities page or a selection over at Slideshare:
ID: 49761707