28 October 2021
Alberto Bario joins Welma as a post-doc on 1.10.21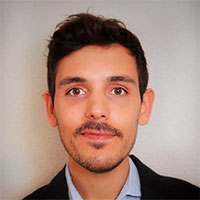 Alberto will work on the project for a period of 3 years starting from the 1st of October 2021:
WorkWel - Reshaping Work and Welfare in the Digital Age
Prior to joining the University of Copenhagen, Alberto worked at KU Leuven in Belgium researching on in-work poverty and vulnerable workers as part of the Horizon 2020 project Working Yet Poor. He was awarded the PhD degree at the Faculty of Law at Tilburg University earlier this year, under the supervision of Prof. Paul Schoukens, Prof. Mijke Houwerzijl and Assistant Prof. Saskia Montebovi. His PhD thesis, entitled Social Security and Platform Work: Towards a more transparent and inclusive path, examined the social security position of platform workers under EU and national law, and how it may fit within some key principles of social security law. Alberto also holds a MA in European Human Rights and Democratisation (Global Campus on Human Rights) and a LLM in European Social Security (KU Leuven).